Product Description
The Laura Thomas Co Multi-coloured Spot Terry Hand Towel has been designed to be unique and different.  At LTCO we pride ourselves in stocking and supplying homeware that are not easily found on the High Street. We provide homewares that are different, sometimes unusual and add a spark to the chosen space. That is why Laura designed these towels to be bright, colourful, practical and stylish. These hand towels are made in small batches in Turkey and made using 100% cotton. They are super absorbent, soft to the touch and hard wearing.
Not only have our Terry Hand Towel been very popular with Laura Thomas clients on our website and from our shop in North Berwick. They have also been favoured by many of our hotel and accommodation clients. The Laura Thomas Co Terry Hand Towels are great for domestic and residential use, and washes well time and time again. Why not pair it with a multi-coloured terry bath towel?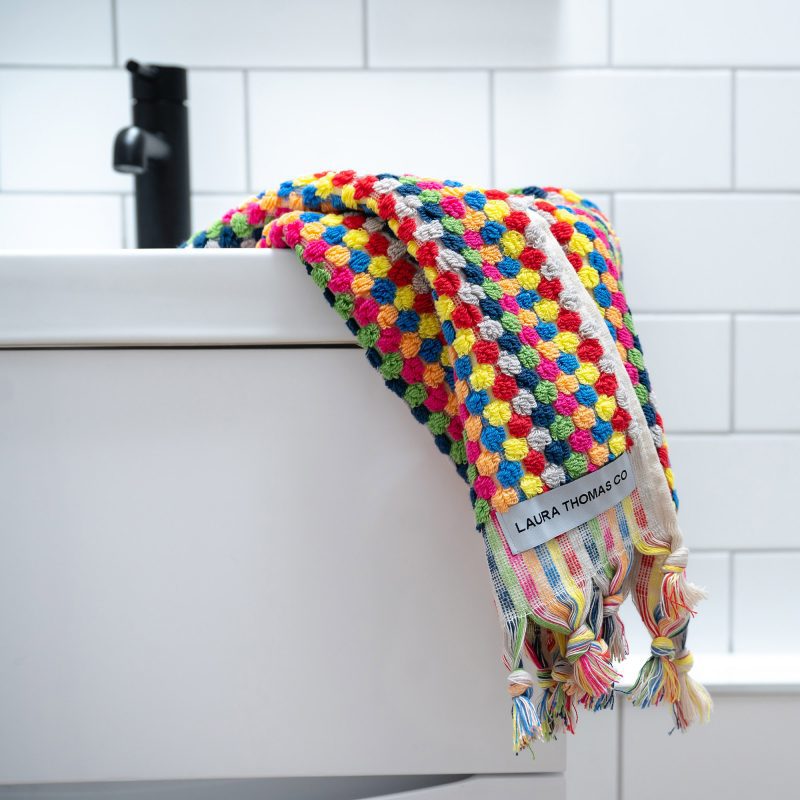 A Laura Thomas Co Multi-Coloured Spot Terry Hand Towel displayed in our workshop in North Berwick, East Lothian.
These terry towels are long lasting and will add a pop of colour to any bathroom! From time to time the threads in these products may pull. If this happens, just cut the pulled thread out and continue washing, drying and using as normal. Cutting the pulled threads will not effect the longevity of the product.