Product Description
Our Forest Liquid Hand Wash is lovingly hand-made by blending oils of Patchouli, Forest Pine + Tangerine with saponified oils of coconut and sunflower.
Forest from Laura Thomas is a natural soap that is gentle to your hands with every use.
The product is free from artificial colours and sulphates and leaves hands feeling refreshingly clean and carefully pampered.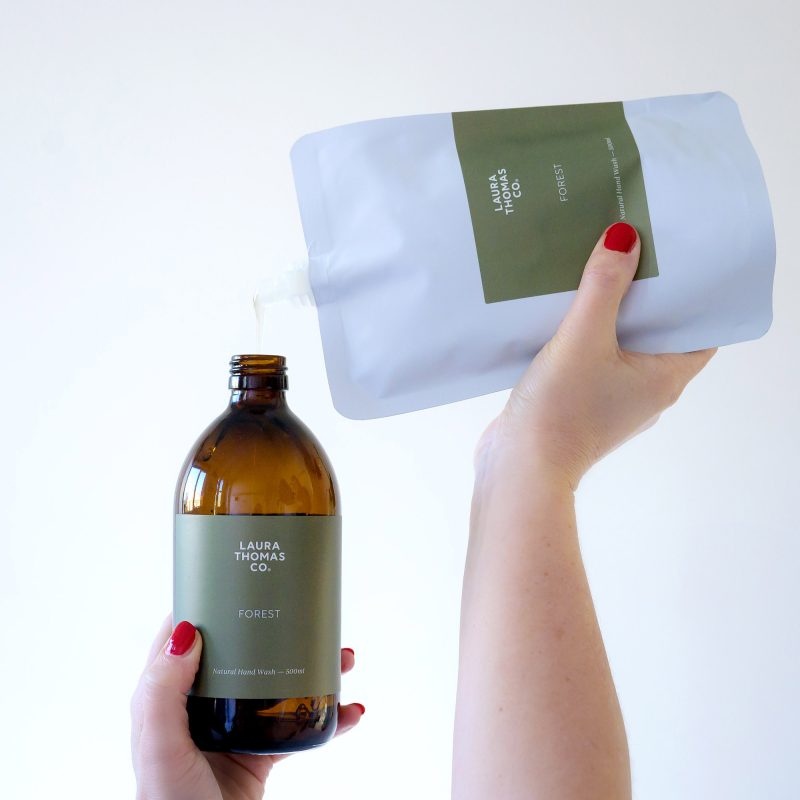 Laura is very passionate about the use of all natural products.  She uses only natural products on her own skin and wanted to create a hand wash within her own brand that stuck by her values. Laura is also very conscience of the effects many toiletries have of the waterways and environment. Thus, the Laura Thomas Co toiletries range was curated with health of local ecosystems in mind. Our liquid hand soap is delivered to you in a refillable glass bottle. You will never need to buy the full bottle again!  Refills for this natural hand wash arrive in recyclable refill pouches. Once used, please collect your refill pouches and take them to your local flexible packaging recycle point. Or return them to us to recycle.
Why switch to a natural hand wash?
When you think about the number of body, skin, hair and makeup products the average person applies it makes sense to switch to natural alternatives where it is possible. Studies say this tallies to an average of 168 different chemicals a day!  If you're layering on hand soap throughout the day, you could inadvertently be slathering on potentially irritating ingredients.
Our bodies tend to appreciate naturally grown food over processed food. This applies to our skin too. Mother nature's ingredients are known to be the most effective. Even the efficiency of synthetic cosmetics are based on them. Unlike natural cosmetics, Synthetic cosmetics contain many fillers and foreign materials. With only a small amount (about 10-20%) are usually natural raw materials. The aforementioned give your skin a surface that feels smooth and well cared for, but in reality, unfortunately, they don't nourish your skin.
Natural cosmetics, on the other hand, take care of our skin as a whole, which is part of the holistic approach to nourish the body inside and out. Laura Thomas Co only uses naturally derived ingredients in our bases. Our hand wash for example, contains cold-pressed sunflower and coconut oil, which are both hugely nourishing for the skin.
Pair with the Forest Hand and Body Lotion for best results.