Product Description
Good Times with Good People.  How we Styled our Moroccan Rugs.
AT LTCO we believe in good times with good people and taking time out to slow down.  We know the importance and joy that the company of those who engerise, respect and inspire us can give.
When Creative Director Laura was having lunch with her oldest and dearest friend she decided to invite along photographer Laura Meek to take a couple of shots of their lunch which involved using LTCO moroccan rugs and blankets to stay cosy in the garden on a sunny Autumnal day.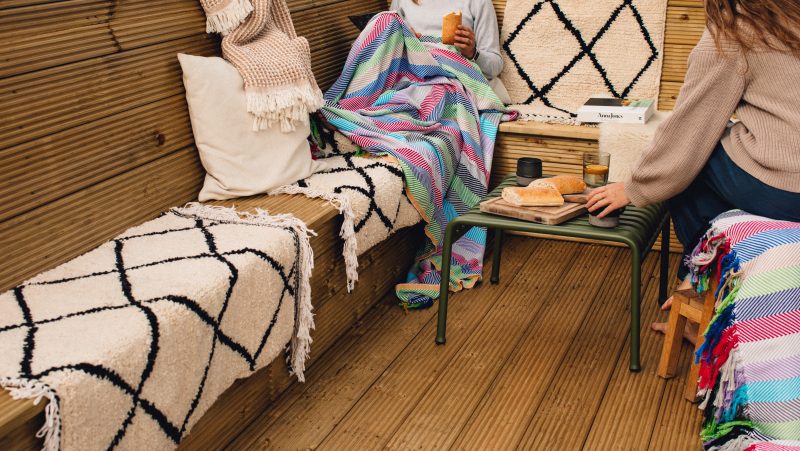 SHOP:
♡ Multicoloured Stripe Herringbone Blanket, 100% cotton, £80. SOLD OUT
♡ Moroccan Black X Rug, 100% wool, made by hand, £110.
Made to last.
Why this Moroccan Rug is so Special
Our Rugs are handmade by women in their homes in the Atlas Mountain region of Morocco. Each rug is hand knotted from organic undyed natural wool and horizontally woven using a gridded line of knots.
In nature nothing is lost, everything is transformed.  This is our mantra at LTCO.
That's why we are passionate about Wool.  It has little environmental impact and is natural and non-polluting. Fully recyclable, renewable and durable.  Invest in our 100% pure wool rugs for your sustainable home.  Buy once, buy better.
How Founder Laura discovered Azilal Rugs
While on a surfing trip to Morocco in 2018, Laura found some traders in the far south-west of Morocco who supply rare tribal rugs that she had never seen before.  Two lads had set up a small business selling rugs that relatives had made in the Azilal area of the Atlas Mountains.  Laura bought some rugs and shipped them home for her own house and was so impressed by their colour and durability she knew this was a must have product for LTCO.  Fast forward three years and Laura has finalised designs for LTCO, which are 100% unique and one-offs!
Jardin Majorelle is Laura's top tip for visiting in Marrakesh, it's a total colour inspo overload.
Beautiful Moroccan Interiors – the whole trip was seriously inspiring on all levels!
Brilliant surf on the west coast of Morocco.
See our other Moroccan Pink X Rug here: http://laura-thomas.com/product/moroccan-pink-x-rug/